Cover Girl is NOT here for rapper Young Thug..
In April, Young Thug announced his upcoming project, Easy Breezy Beautiful Thugger Girls, but when the album dropped June 16, the title was changed to Beautiful Thugger Girls. After Thug posted a promotional video for the album, suspicion of a legal issue with CoverGirl was confirmed when the company released a statement.
The company claps back…
A rep for the makeup company said a request for permission to use the slogan for Young Thug's original title or in the video was never made. "CoverGirl was not contacted by Young Thug or any parties regarding his original album title," says the statement. "The album is not aligned with our values at CoverGirl. Violence and abuse are unacceptable behaviors. We do not support the use or association of our iconic slogan, 'Easy, Breezy, Beautiful, CoverGirl,' with Young Thug's video, album or promotional materials."
Watch the disturbing clip below..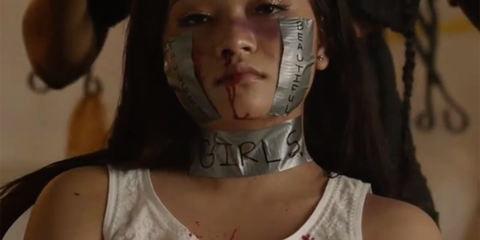 The woman is then kidnapped and taken back to a house where she is tied up, bruised, and covered in duct tape that reads, "Easy Breezy Beautiful Thugger Girls."