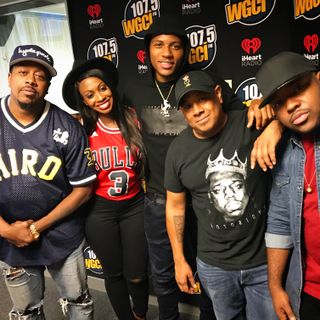 Ferrari did a 20 min interview with Chicago's finest 'Chicago Morning Takeover' on WCGi about the Blac Chyna and Rob K. situation.
Click Here and Here if you missed the stories.
Cliff notes.
Ferrari is from Chicago.
Ferrari explains he met Blac Chyna at the 0:59 mark. She DM him on the gram two 1/2 months ago.
Ferrari sent his number and later got a Face time from Chyna. Chyna was trying to see if he was cat fishing her. (1:45 mark).
They connect in Vegas.
At first Blac Chyna says Ferrari  was acting too bougie. At the 2:36 mark.
The crew asked how long did before he smashed? Ferrari responds, "The first time as soon as I got out there. … I flew out there about a week and a half later. 3:12 mark. We kicked, popped some liquor and chilled. Lit some little candles, kicked it, and watch some movies. And, I got a little aggressive you know  and things go down….
At the 4:31 mark Ferrari denies dating Chyna.. He refers it to persona dripping.
At the 5:00 mark (RECAP)  Rob K. claims Ferrari reached out to him because you wanted to get money unless you was going to share details.
Ferrari denies the information.  "That's false" Ferrari explains," My child's mother they had a little conflict going on.. I think it's because a lot of people was hurt after the situation. You know me and her was blunt to the situation. They both knew. (5:26 mark) Ferrari confirms they had a full conversation.
At the 5:52 mark. Exclusive. Ferrari said there was a proposition being made. He promised a million plus tax free.
Ferrari never told Rob that he smashed Chyna. (6:15 mark).
Rob offered a million dollars for Ferrari to go away. (6:48 mark)
Click Here to listen.