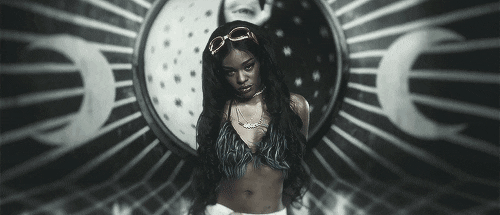 Azealia Banks posts a lengthy message on her appearance on the show on Instagram. Azealia says she was complexion shamed by the cast during a freestyle battle, which she didn't plan to participate in.
azealiabanksI did Wildin' out today. There were tons of pre-planned colorist jokes and of course …. cry baby cried. Some little scrawny black Atlanta twink was prepared for me. They planned this – hit me on short notice, told me I didn't have to participate in the coon ass freestyle battles ,(not my style) and I was to sing my song and go home. I show up and some guy who's darker than me starts calling me ugly and being colorist, then all of a sudden a choir of the most disgustingly basic, local, cattle call "urban" pseudo comedic "FAT BECause You sit in a chair all day" greasy soul food induced south of the mason Dixon ,self hatred. Ass It#backwards, post-Jim crow , post traumatic slave disorder true self esteem less, Ward of the state CLOWNS with their low scale and highly UNimpressive resumes, start going off about how the beautiful Azealia Banks looks! I've never felt so much hate and rage for anyone else than I did in that moment. Yemaya was really on stage . Yemaya ..…
Nick Cannon responds..
Don't you hate when you create your own storms but forget your umbrella??? 🤦🏾‍♂️ azealiabanks We are praying for you Queen 🙏🏾 #speedyrecovery #Healing
She #Wildnout for real 😳 🤣 #Karma https://t.co/FYoCS2buLh

— Nick Cannon (@NickCannon) July 15, 2018
MTV's 'Wild 'N Out star Eman Hudson briefly explains the situation.
"Azealia Banks or whatever her name is, something really wrong with that girl man smh. She got called ugly, once! And a two cardi b jokes that weren't even really about her. And that's all it took. Her song she sang at the end was raw trash and we saved that by pretending to model to her music…. Azelia B came on that show , got called ugly, tried to joke back, didn't work, cried, then performed a weak a** forever 21 shopping song!
Azealia Banks or whatever her name is, something really wrong with that girl man smh

— IG: @emanhudson (@Emanhudson) July 15, 2018
She got called ugly, once! And a two cardi b jokes that weren't even really about her. And that's all it took. Her song she sang at the end was raw trash and we saved that by pretending to model to her music. https://t.co/88a3t6mW6g

— IG: @emanhudson (@Emanhudson) July 15, 2018
Listen, you weren't there to know what happened. Trash talking is the foundation to her career. She's known for bashing ppl for no reason. She gets called ugly once and starts trolling. No one feels sorry for her! We made her cry!? Sad part is, nick had nothing to do with it. https://t.co/4XrilkWnT4

— IG: @emanhudson (@Emanhudson) July 15, 2018