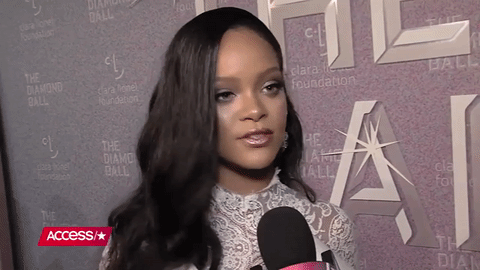 Rihanna made headlines this week at her NYFW Savage x Fenty show by having a diverse array of women walking the runway – including pregnant models!
Considering that models like Gigi Hadid, Bella Hadid and Slick Woods bared a lot of skin wearing lace, fish net and see-through lingerie on the catwalk, conversations on the epic event managed to center on female empowerment—that may be a first.
"Women are the strongest people on earth," the "Wild Thoughts" singer told E! News backstage. "Our bodies alone are made to do so many different things and they're designed in so many different, unique ways. It is about time that we celebrate that."
To achieve her mission, she invited women of all shapes and sizes to her runway, including pregnant women.
"If you have the blessing to being life into this world, it should be celebrated as well," she stated.
Plus, Rihanna has a hilarious reaction when our reporter says the Rihanna Navy needs new music. And, Rihanna talks about the significance of the Diamond Ball.
In similar news,  Pregnant model Slick Woods goes into labor right after walking in Rihanna's Savage Fenty fashion show…
According to reports Slick Woods went into labor as soon as she got off stage and was transported to a nearby hospital.
Slick was part of Rihanna's all inclusive show that included plus size, short and pregnant models.
Slick is expecting a baby boy with model Adonis Bosso.