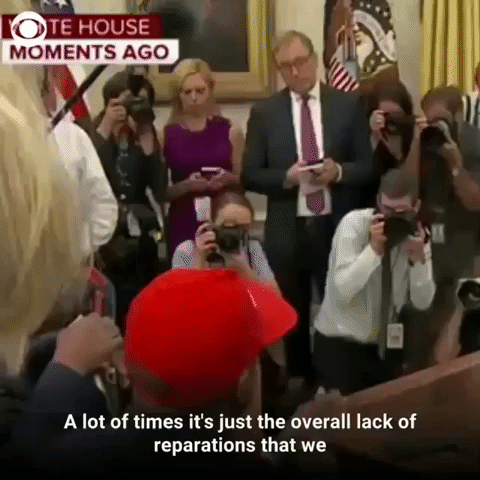 Kanye West's visit to the White House was pitched as a part of President Trump's commitment to urban revitalization, criminal-justice reform and new workforce-training programs.
Cliff Notes
In an Oval Office meeting with . Trump that was open to the press and also included NFL Hall of Fame running back Jim Brown, Kanye launched into a soliloquy—peppered with occasional curse words—about his own upbringing, violence in Chicago and his unapologetic backing of a president who has found tepid support among other entertainers or black Americans. Over the past two years, Kanye has faced regular public criticism from other celebrities over his stance.
The rapper said the president's critics fail to recognize Trump's "bravery." Kanye, who was wearing a "Make America Great Again" hat, said the Trump-campaign staple made him "feel like Superman."
Kanye said that he didn't have "a lot of male energy" in his home due to his parents' separation and noted that he is married into a family of strong women—including his wife, Kim Kardashian. Ms. Kardashian has been working with administration officials on prison reform and helped to convince Trump earlier this year to pardon Alice Marie Johnson,who served more than two decades in federal prison after being convicted on nonviolent drug charges.
Kanye weighed in on race relations, saying his 2005 statement in the wake of Hurricane Katrina—"George Bush doesn't care about black people"—was the result of a "victimized mentality." He also dismissed the notion that labeling Trump a racist, as some critics have done, would dissuade him from supporting the president. "So when I said, 'I like Trump' to [a] liberal, they'll say, 'Oh, but he's racist.' You think racism can control me? Oh, that don't stop me."
Kanye didn't dismiss a possible presidential run of his own, but said he'd only consider it "after 2024," or after two full terms of a Trump presidency. "Trump is on his hero's journey right now. He might not have thought he'd have a crazy motherf—er like Kanye" supporting him, said West.
On the "Make America Great Again" hat ,Kanye acknowledged that some people have an issue with the word "again" in the trademark Trump slogan, and said he prefers simply "Make America Great."  He elaborated: "Time is a myth. All we have is now. All we have is today."
Trump sat unusually quiet through the event, at times nodding or quietly acknowledging Kanye , and gently correcting him on the location of a manufacturing facility. At one point the president asked Kanye how he feels to be in the Oval Office.
"Oh! It's good energy in this," he said.
Kanye ran around the massive Oval Office desk to give the president a big hug. Trump didn't quite know what to say.
"This was set up as a lunch," he offered.
Click Here to watch the second video.