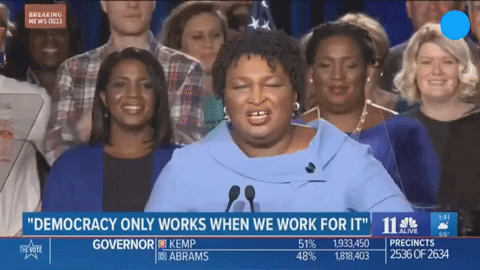 Democratic candidate Stacey Abrams is not conceding the Georgia governor's race to Republican candidate Brian Kemp, arguing that the high stakes contest is too close to call.
CNN has not projected a winner in the Georgia governor's race, but Kemp is ahead in votes with 99% of precincts reporting.
"I'm here tonight to tell you votes remain to be counted. There's voices that are waiting to be heard," Abrams told supporters early Wednesday morning gathered in Atlanta.
In a statement provided to CNN, her campaign cited several specific reasons why she is not conceding, including that three of the state's largest counties "have reported only a portion of the votes that were submitted by early mail" and four other large counties "have reported exactly 0 votes by mail," according to the campaign. Together, it said, the seven counties "are expected to return a minimum of 77,000 ballots."
"These counties also represent heavily-Democratic leaning constituencies, and the majority of those votes are anticipated to be for Stacey Abrams," the statement read.
The campaign also said it was waiting for absentee ballots — "another major pickup opportunity for Abrams"– to be counted, something that Abrams told her supporters in Atlanta as well.
In similar news, Democrats harnessed voter fury toward President Trump to win control of the House and capture pivotal governorships Tuesday night as liberals and moderates banded together to deliver a forceful rebuke of Mr. Trump, even as Republicans held on to their Senate majority by claiming a handful of conservative-leaning seats