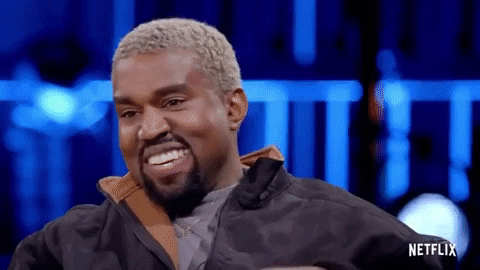 In a sneak peek at his upcoming interview on David Letterman's My Next Guest Needs No Introduction, the artist tells a touching story about his mom, who died in 2007 at age 58 of heart disease while suffering multiple post-operative factors after plastic surgery.
"This would have been the funnest time of her life, to have those kids running around that house and being able to go and buy them toys," says West, who just welcomed his fourth child, son Psalm, with wife Kim Kardashian West,
The camera then pans to Kardashian West in the audience, lovingly watching on.
"I remember my mother bought me a bear that was multicolored," West continues. "I was very into [contemporary Japanese artist] Takashi Murakami at that time. … So she bought it. She said it kind of feels Takashi Murakami. I was sort of like, 'I don't want that, that ain't no Takashi Murakami bear!' "
"Then she passed a few weeks after," he recalls. "I did everything I could to find that bear and place that bear on top of all the Takashi Murakami stuff I had in the house."
In another clip, Kanye West claimed liberals bully supporters of Donald Trump after being challenged on his political views by David Letterman on the comedian's Netflix series.
According to The Daily Beast, West was the first to bring up his Trump support with Letterman in the midst of a conversation about the #MeToo movement.
"This is like my thing with Trump — we don't have to feel the same way, but we have the right to feel what we feel," he said.
Kanye went on to explain that his decision to wear a "Make America Great Again" hat is "not about politics" but rather his way of showing people they shouldn't be afraid to show their support for the president.
When speaking about Republican-led voter suppression efforts during the midterm elections, the host also questioned whether West's support might be indirectly hurting the people he claims to help.
"So if I see a person that I admire talking about Donald Trump can think whatever he does," Letterman said, "I wonder if those thoughts, indirectly, aren't hurting people who are already being hurt."