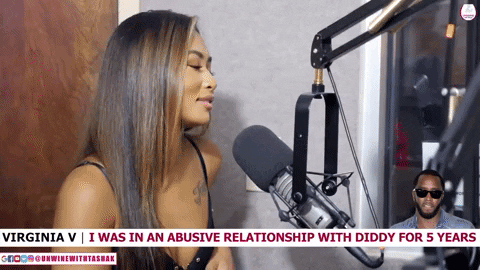 It was previously reported, Gina Huynh shared photos and videos of the business mogul snuggled up to a mystery woman. In the series of clips, Diddy is at one point shown kissing her.
This is Virginia's first exclusive interview with unWinewithTashaK and says she has a valid reason she's telling her story.
Cliff Notes:
At the beginning, Virginia tells how long she's known Diddy:
"I've known him for five years. I've met him February 2014. Well technically the very first time I met him was September 2013. Because, I was at a fight in Vegas and I went to the Palms and he was hosting there. I kind of met him there, but he says he remember vaguely but then like five months later. When, I ran into him again in Miami February 14, 2014. So, that's when we like officially met I guess …
I was with a friend. I was visiting a friend in Miami. She had moved to Miami. from Nebraska. And, I was visiting her and we went out the night before met him. So, we we're out all night and me and her we were with a couple of guys and they were like let's go to Puffy's house. It was like 9 a.m. in the morning. I mean no one was there but he was up to though. And, when I first walked in … I'm very a chill person. When I came he was like you are not happy to see me. You at Diddy's house that means you made it. I was 21 or 22-years-old at the time. I'm 27."
At the 7:59 mark, Virginia says, she's spent a lot a time with Diddy and even met his kids. Things became so serious she got pregnant not once but twice.
Virginia explains the first time she got pregnant with Diddy's child. "The first time was October 2014. Well I told him. and he was like you're getting an abortion right? Then, I was like I don't know yet. Then, he offered me $50,000 to get rid of it but I turned it down because I just loved him. I wanted to… I was like trying to prove that. I wasn't the girl that wanted him for money. I just cared about him. I just wanted him to be nice to me that's it."
Virginia continues, "The first 3-to -4 months he was really nice to me but after that he started being an asshole. So, I say like the first 3 and 1/2 years he was like mean to me. He was abusive. He was like always belittling me. He was mentally, emotionally, and physically abusing me. He would always compare me to Cassie. and tell me that I'm the bad one. She's a good one.
Diddy was dating Cassie and Virginia at the same damn time.
Virginia breaks down crying at the 11:37 mark after she recalls a time when Diddy harshly criticize her bad acne break out.
"He would call me "ho" every single day. I think he did it because he wanted me to feel low about myself so that I stick around with him. I just feel like he tried to use. I was naive. and young when I met him. So, I feel like he tried to take advantage of that and manipulate me…."
At the 13:01 mark, Virginia opens up about physical abuse.
"The first time it ever happen which was not even that long into the relationship. I met him in February it was the beginning of May. We were at Meek Mill's birthday. He had like a mansion party and we went but while we was there I was sitting here and Puff, and then Meek. I was cover with a stand or something probably says like "Happy Birthday Meek" something like that a little was covering me. So, it was me, Puff and Meek. Puff lean forward to talk to someone and say, "Hi" or whatever. I turned over to Meek and say "Happy Birthday." [Meek] put his hand out and he was like "thank you." I reach his hand and shook it. And, as I shook Meek's hand. [Puff] turn around and he saw it. [Puff] got so mad . We probably like stayed for 20-mins after that happen. When we got into the car he like grab my hair. We were in one of those Escalade trucks he like grabbed my hair and cuss me out for doing that. Puss says, "Why in the fuck would you go over there and grab his hands for….?"
At the 15:41 mark, " [Puff] did this when King Los was sitting in the back. And, when we got to the hotel it got even worst. He took one of my heels and tried to throw it at me. He like mush my face like really hard and made my nose bleed. Every time me and Puff get into like fights like that the only person that ever helped me was D-Roc. Everyone else allow it to happen and look the other way."
Watch the full interview below:
In the second clip, Virginia talks more about Cassie and Lori Harvey.
At the 6:55 mark, "[Cassie] knew about me like four months into the relationship. [Cassie] reached out to me via text. Basically, [Cassie] said to leave him alone. But, she reached out to me a few times after that. She was never nasty to me. She never called me names or nothing. She was always nice…."
At the 8:41 mark, Virginia talks about the other women in Diddy's harem.
Virginia says, "…. Just recently Lori Harvey, we was actually here in Atlanta at the Superbowl and he invited me to come and I did. We were staying at this house we rented out. We were having parties the whole weekend. She had came over I notice that they were gone like a long time. I was like looking everywhere for them… I suspected he like snuck away with her. Now, [Lori] is at family functions and he invites her to his events and stuff in Miami. They were just in Virginia not too long ago.
Virginia talks about how women send Puff x-rated pictures.
Virginia says she law a picture with Puff and Lori. The same exact pose that he took with Virginia. They didn't have any clothes. Virginia says she has no issues with Lori.