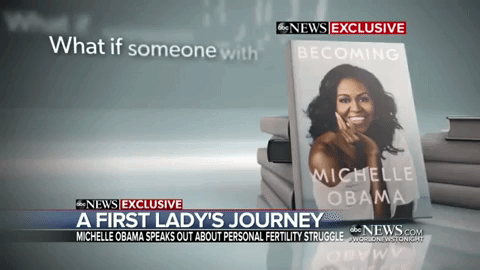 If you missed the previous story click Here to read.
In her upcoming memoir, Michelle Obama writes that she will "never forgive" President Trump for pushing the so-called birther conspiracy that she believes put her family's safety at risk.
Trump responded to the former first lady Friday with an irrelevant swipe at former President Barack Obama over cuts in military spending.
Michelle Obama tears into Trump over the issue that launched his political career: spreading the lie that Barack Obama was born outside the country and was therefore ineligible to be president.
"The whole [birther] thing was crazy and mean-spirited, of course, its underlying bigotry and xenophobia hardly concealed. But it was also dangerous, deliberately meant to stir up the wingnuts and kooks," she writes. "What if someone with an unstable mind loaded a gun and drove to Washington? What if that person went looking for our girls? Donald Trump, with his loud and reckless innuendos, was putting my family's safety at risk. And for this I'd never forgive him."
Donald Trump responds…
"She got paid a lot of money to write a book and they always expect a little controversy," Trump said.
"I'll give you a little controversy back, I'll never forgive (President Barack Obama) for what he did to our US military. It was depleted, and I had to fix it," Trump said. "What he did to our military made this country very unsafe for you and you and you."
More…