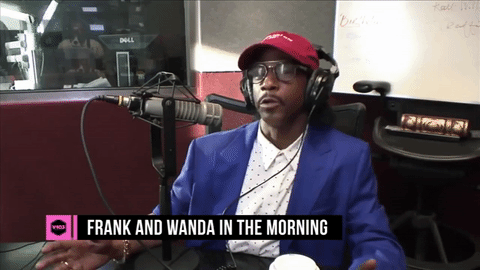 Morning, Emmy-winning actor/comedian Katt Williams lit up the airwaves, sharing nuclear-hot takes on some of today's top comedians, including Tiffany Haddish, Kevin Hart, Jerrod Carmichael and Hannibal Buress. Watch as Williams calls some ugly, questions others' talents, and suggests that race and colorism play roles in who Hollywood hires and why.
At the beginning of the interview, Katt Williams talks about his comedy stand up special and the business side of comedy.
At the 3:30 mark, Katt Williams talks about Netflix deal. "I'm on my 15 consecutive 100-city tour on the exact day that Mo'Nique was asking for a Neflix boycott. Netflix had cut me a check for $2 million for a special that I got paid $300,000 to do. Or, I'm really good at jokes you tell me.
At the 4:39 mark, Katt Williams reacts to Tiffany Haddish's Netflix deal.
Katt Williams explains, "Everybody has to understand Netflix doesn't have an opinion on stand up comedy. They base on what they pay you by the amount of ticket sales for your last tour. So, Monique last tour had $316,000 tickets, therefore that's what she got offered. My last tour had $2.4 million…tickets, so that's what they offered. People understand it's not personal. They can just for free take they ass to work and get their numbers up. Netflix don't call nobody. That's the joke . Katt Williams impersonates Mo'Nique "Netflix ain't giving me…." First of all, Netflix ain't call you. Knock it off! Is Coca Cola knocking on people doors to see what type of beverage they having today?
At the 5:59 mark, Katt Williams says, "What else could they go by. What comedian don't think everybody can't wait for their next special… The fact of the matter is what makes great comedy is a 100-people talking the same time that you are talking. Are you saying something different from them people are saying? Because if you are you deserve a special and if you don't you're going to find out you're not special.
"They're going to let you do your special, Jerrod Carmichael, but nobody's gonna watch it. They're gonna let you be a star, Lil Rel, but you're ugly and white people don't believe in ugly stars. They believe that you have to be somebody women want to sleep with and men want to be, but because we're black they say 'oh you don't even deserve that.' So we get Kevin Hart, Lil Rel, Jerrod Carmichael, Hannibal Burress, just dudes that no woman would talk to in Lennox Mall, but you're making them superstars because you know ain't nobody gonna sleep with them."
Because we're black you don't even deserve that, so you get Kevin Hart, Lil Rel, Jerrod Carmichael, all in the row Hannibal Buress, dudes that no woman would talk to … let alone you making in movie stars. Why because you know ain't nobody going to sleep with them?
Katt Williams talks about Tiffany Haddish at the 6:35 mark.
She's been doing comedy since she was 16. You can't tell me your favorite Tiffany Haddish joke. Why? Because she ain't done a tour yet. She ain't done a special. She has not proven the ability to tell jokes back to back for an hour to nobody," Williams said.He took things further with some bold accusations about the reason she's has been so successful. "They like her because she wanna sleep with a white man. That's why the only thing she said was I wanna give it to Brad Pitt. She said she's got a diseased vajayjay ain't nobody checking for that," he added.
Katt Williams supports Luenell at the 9:12 mark.