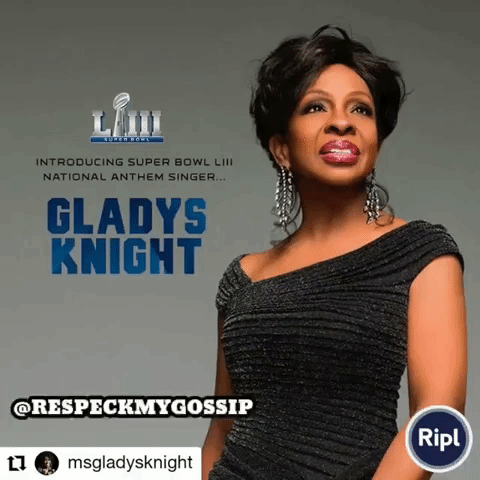 Update. Ms. Knight defends her decision…
Gladys Knight tells Variety

"I understand that Mr. Kaepernick is protesting two things, and they are police violence and injustice. It is unfortunate that our National Anthem has been dragged into this debate when the distinctive senses of the National Anthem and fighting for justice should each stand alone."
"I am here today and on Sunday, February 3rd to give the Anthem back its voice, to stand for that historic choice of words, the way it unites us when we hear it and to free it from the same prejudices and struggles I have fought long and hard for all my life, from walking back hallways, from marching with our social leaders, from using my voice for good — I have been in the forefront of this battle longer than most of those voicing their opinions to win the right to sing our country's Anthem on a stage as large as the Super Bowl LIII."
---
R&B legend Gladys Knight will sing the national anthem at this year's Superbowl LIII scheduled for Feb. 3 at Mercedes-Benz stadium in Atlanta.
"I am proud to use my voice to unite and represent our country in my hometown of Atlanta," Knight said in a statement. "The NFL recently announced their new social justice platform Inspire Change, and I am honored to be a part of its inaugural year."
Knight got started in music with her group, Gladys Knight and the Pips, which signed with Motown in 1966. They were inducted into the Rock and Roll Hall of Fame in 1996 and the Apollo Legends Hall of Fame in 2006.
Her Superbowl performance will be televised live on CBS-TV prior to kickoff, according to NFL.com.
She joins a long list of A-list performers who have sung the national anthem at the Super Bowl, including fellow Motown legends Aretha Franklin and Diana Ross.