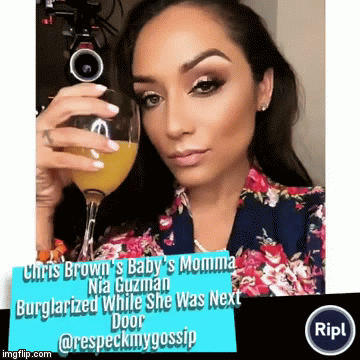 While Chris Brown is dealing with legal drama in Paris, his daughter's mother Nia Guzman is dealing with her own drama back in Los Angeles.
The day after Brown was arrested for suspicion of rape, Guzman's apartment was burglarized, according to TMZ.
Thieves made off with shoes and designer bags that belong to Guzman, 35, her eldest daughter and her 4-year-old daughter, Royalty, whom she shares with Brown.
It's not yet known if anything else of value was taken from the home.
However, Guzman wasn't far from home during the burglary. She happened to be next door visiting her mother.
In similar news, Police are having major credibility issues with Chris Brown's rape accuser.
According to a new report by TMZ, Chris Brown's 24-year-old accuser, who claims he violently raped her in a hotel dressing room in mid-January for about 25-30 minutes, has some major holes in her story.
We're told she told cops that Chris raped her in his hotel suite dressing room for somewhere between 25 and 30 minutes. She says she then went into another room and was raped again, this time by one of Brown's friends. And then, she said she was "abused" for a third time in another room. We're told police believe the story doesn't hold water because she never attempted to leave or alert anyone of the 20 or so people who were in the living room.