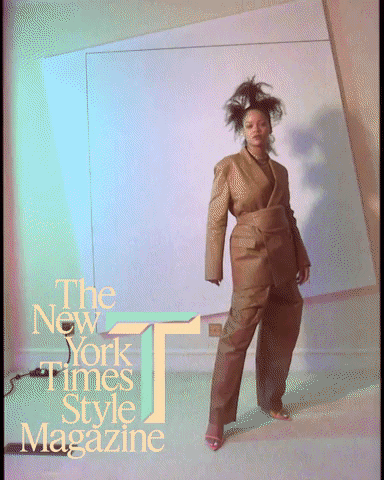 Earlier this month, the French fashion conglomerate LVMH Moët Hennessy Louis Vuitton announced, after months of speculation, that it would expand its partnership with the pop star Robyn Rihanna Fenty, 31, beyond the beauty industry by launching a fashion line called Fenty. It's the first major fashion brand that LVMH has created from scratch in its history, and it represents another historic shift: Rihanna is now the first black woman at the helm of one of Paris's luxury houses, long revered for maintaining the highest level (in terms of craftsmanship, aesthetics and, yes, cost — though more on that later) of clothing and accessory design.
Today, in a wide-ranging digital cover story published by T: The New York Times Style Magazine, Rihanna discusses her new company for the first time, explains its genesis and reveals the line by modeling it in photographs that were shot for T in a home near London. In the interview, conducted by the playwright Jeremy O. Harris, she goes deep on her life, her music and her businesses. Rihanna has new music coming out soon.
In a rat-a-tat exchange with Harris that addresses the rumors surrounding her forthcoming album, the first since she released "Anti" to rapturous praise in 2016, the singer confirmed the following facts: She is making a reggae album; it will arrive imminently, but she doesn't know the exact date yet; and, sure, she's open to working with Lady Gaga, who recently followed her on Instagram. As for the name of her ninth album? Here's her response:
"So far it's just been R9, thanks to the Navy," she said, referencing the term for her crew of fans. "I'm about to call it that, probably 'cause they have haunted me with this 'R9, R9, when is R9 coming out?' How will I accept another name after that's been burned into my skull?"
… But don't expect Drake to be featured on her next album.
The two musicians, reportedly linked by a romantic past, have often appeared on each other's albums, producing memorable hits like 2010's "What's My Name?" 2011's "Take Care" and 2016's "Work."
But when asked if she would collaborate with him again, she was definitive: "Not anytime soon, I don't see it happening. Not on this album, that's for sure."
It's all work and no play for Rihanna these days.
Though some of the most indelible memes of Rihanna online feature her partying on a yacht or walking out of a restaurant with a wine glass, she insists that she doesn't have time for that anymore. Plus, she'd rather just hang out with her colleagues:
"The party, believe it or not, is at work. I do not go out. I will go to a dinner. I try to have as much fun as I can during work. And even after work, when I'm literally in my kitchen having a drink, I invite all my staff. And we work, still."
Next up in Rihanna's empire: hair products?
When Rihanna launched her Fenty beauty line in September 2017, she released 40 shades of foundation, from the darkest to the lightest skin tones, reflecting her upbringing in Barbados. "Growing up, I wanted to be darker, always," she said in T's interview. In its first year, Fenty Beauty surpassed $500 million in revenue; the company has since added 10 new shades of foundation and plans to add more in the future. But that's not the only way Rihanna wants to increase her beauty offerings:
"As soon as I'm ready to give up the two hours of sleep that I get now," she said. "That's for hair."
Rihanna: the movie star — well, eventually.
Barbra Streisand. Cher. Lady Gaga. Though there's a long lineage of singers who crossed over into Hollywood — and though Rihanna has had parts in a few movies, including 2006's "Bring It On: All or Nothing," 2012's "Battleship" and 2018's "Ocean's 8" — she doesn't quite think she's ready to return to the big screen, not that she hasn't been given the opportunity:
"I'll probably try a little more, but not until I know I can handle a lead and carry a movie on my own, because I've been offered," she said. "I'm always like, 'Guys, thank you for trusting me, but Angelina Jolie is over there.'"
7. Even Rihanna feels like an outsider sometimes.
Few celebrities wield as much power and influence as Rihanna — that's one of the main reasons that LVMH is collaborating with her on the fashion line — but when discussing the racist, classist and sexist behavior that often permeates the industries in which she works, the artist admitted that being Rihanna doesn't necessarily safeguard her from being mistreated:
"It's never alleviated, you know? You're going to be black wherever you go. And I don't know if it's unfortunate or fortunate, because I love being black. So, sorry for those who don't like it — that's the first thing you see before you even hear my voice. There are also other factors: I'm young. I'm new to the family. I'm a woman. Those factors do come into play, but I will not apologize for them, and I will not back down from being a woman, from being black, from having an opinion. I'm running a company and that's exactly what I came here to do. I don't know if it makes people uncomfortable or not, but that's not even my business, you know? I do know that the reason I'm here is not becauseI'm black. It's because of what I have to offer. That's what they're invested in. And the fact that I'm black is just that: a fact."
Read the full interview HERE.